Haley sing it to win it!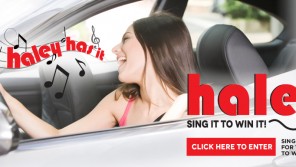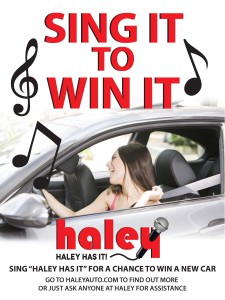 We are so excited to announce the Grand Prize winner of our "Sing It to Win It" contest. Congratulations to Shelby Patty, the proud recipient of a brand new Ford Focus from Haley Automotive Group.
For the past 6 months, Haley encouraged everyone from all over central to send in a video of themselves singing the "Haley has it jingle" for a chance to win a new car.
Shelby was one of the ten finalist that were randomly selected from all entrants.  All top ten were invited to attend the Flying Squirrels game this past Saturday at the Diamond along with their friends and family. Prior to the first pitch, each finalist (who had to be present to win according to the contest rules), drew a number out of a hat that unknown to them, would decide their fate.  They each wore a Haley t-shirt throughout the evening displaying their number.
After the game, all 10 finalists lined up on the field with Haley employees, friends and family cheering them on.  Each given a pre-numbered microphone to match their drawn number , as a group, they were asked to sing "Haley Has It" as loud as they could  One catch, only one microphone was activated to work and that was the winner's, Shelby Patty.
Congratulations Shelby. We hope you enjoy your new Ford Focus from Haley Auto Group.