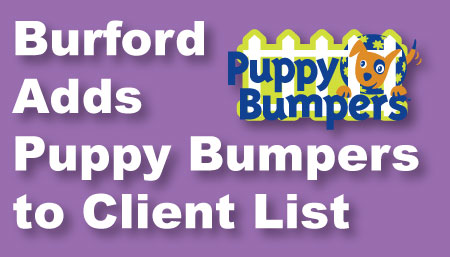 Burford Advertising Teams Up With Puppy Bumpers to Save Small Dogs
Burford Advertising is excited to add Puppy Bumpers to its client list.  Puppy Bumpers is based in Richmond. It's an award-winning product invented and patented by President, Ann Price.  Puppy Bumpers protects small dogs from squeezing through fences and balcony rails.  They are sold in boutique pet stores, vet offices, pet catalogs and online all over the world.  However, Ann Price is proud of the fact that she's managed to keep production within the U.S. and hasn't farmed it to a foreign country.  In fact, all Puppy Bumpers are created right here in Virginia and they're all hand-made by people in the STEPs Inc. program.  STEPS is a non-profit organization in Farmville that provides jobs and training to those with disabilities or who are on welfare.  So, not only does Puppy Bumpers help dogs and their owners, it supports a wonderful cause too.
Burford is excited to work with Puppy Bumpers.  Our first project is to launch an entirely new website by March 1st.  Meanwhile, Burford plans to roll out a Public Relations campaign along with a market specific TV and digital campaign.  "We are so excited to be working with Puppy Bumpers.  We feel like it's a hidden gem with a lot of potential and it's located right here in Richmond.  Ann is wonderful to work with and Puppy Bumpers is a great product with a great story.  Having clients like this is why we love advertising", says Ardis Fishburne, Creative Director.